Aspirational brands rely on a high-low strategy. They price their main lines high for the super rich. But they hedge low on their entry-level diffusion lines.
Aspirants dream about Birkin bags, but they'll settle for anything with an Hermès logo on it. So Hermès sells Birkins to wealthy socialites, and not-quite-Birkins to those who've seen them on TV.
In doing so, it captures all the marketplace demand for its brand name through price discrimination. Some luxury brands eschew aspirational customers altogether - you won't find a Tom Ford suit for less than a couple of grand.
High-end prices have gone off the deep end; as the
Wall Street Journal
reported, "in the past five years, the price of a Chanel quilted handbag has increased 70 per cent to $4,900. Cartier's Trinity gold bracelet now sells for $16,300, 48 per cent more than in 2009."
And luxury sales are slowing down. Consumption was an impressive $390 billion in 2013, a 7 per cent increase over 2012 - but a drop from 11 per cent growth rate in 2011.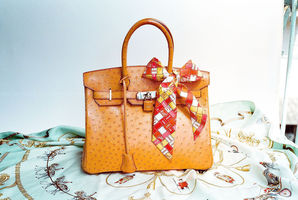 The projected rate in 2015 is only 6 per cent. Time attributes the slowdown to a cooling market in China, where President Xi Jinping recently initiated a crackdown on bribery and corruption (major drivers of luxury purchases, especially among government officials).
China's lower-middle class and "mass affluent" class are giving way to its upper-middle - a curious trend that McKinsey Consulting explains as spending on experiences, like spas and weekend getaways.
In the coming years, China's famed obsession with red Bordeaux, Italian automobiles and Swiss watches will become the sole province of the country's superrich. Others will have to make due with midtier brands.
The pattern is roughly the same in the United States, as aspirational consumers give up on Gucci and turn to the more reasonably priced Michael Kors, Uniqlo and Topshop.
Those that sell to the aspirational range - Armani, Prada and LVMH - are seeing the big bottom fall out. They're being forced into a pickle. They can drop their diffusion pricing even lower, in a bid to win back the aspirational shoppers, but doing so might cheapen their brand image, sacrificing high-end customers in a fruitless quest to recapture the low end.
Or they can let the low-end go, which would mean drastically culling product lines, scaling back operations, and hoping to compete with the 0.1 per cent's growing taste for bespoke and artisanal goods.
Not everyone will be so nimble. BMW has overextended itself by playing more in various entry-level aspirational markets; even BMW enthusiasts are confused about how many market segments, models and diffusion lines the automaker sells.
Luxury brands will have to choose which dream they're selling. Or they'll pay a steep price for their indecision. We won't be able to afford some of them, and that's just as well - many of them can no longer afford us.
http://www.nzherald.co.nz/business/news/article.cfm?c_id=3&objectid=11242307&ref=rss