Friday, June 2, 2017
Respoke's espadrilles merge craftsmanship, sustainability, and all that is chic

Every morning,
Michael Tonello
makes himself a cup of Earl Grey tea and goes online to scour the all corners of the Web for vintage Hermès scarves. But Tonello is not a collector—they are actually for his espadrille brand,
Respoke
, which repurposes vintage silk scarves (also from brands like Gucci, Pucci, and most recently Alexander McQueen) into luxury shoes, entirely handmade in Spain.
"The more important thing, in some ways, is finding scarves that are in perfect condition. We don't want scarves that have lipstick stains on them, or perfume stains—any kind of stains, for that matter—holes, or pulls," he said of the challenges of shopping vintage, also noting that interesting or recognizable patters are a must. "We want things that are sort of iconic. We want things that are colorful and fun. We want things that have a lot of pattern on them, so that there's a lot going
on
on the espadrille."
Tonello, is perhaps best known as the author of
Bringing Home The Birkin
, his
New York Times
bestselling memoir about his career as an Hermès Birkin bag reseller, which began in 1999 when he made a profit on eBay selling one of his old scarves. "I had paid about $175 for it at
Bergdorf Goodman
in 1992, so I listed it on eBay with an opening bid of $99," he said of his first sale. "It sold for over $500." But since launching his shoe brand last year, he's been on the other side of the transaction, dealing with auction houses and resellers around the world. And completing the circle, the line's summer collection was just picked up by Bergdorf.
He first toyed with the idea of espadrilles made out of scarves two years ago, when he started to get bored with the generic cotton canvas the shoes are usually made in. "Living in Spain, everyone buys espadrilles in the spring and wears them all summer long. But they're always made out of solid color," he explained. "Then, one day, I just had this idea,
oh my god, this scarf would make amazing espadrilles!
"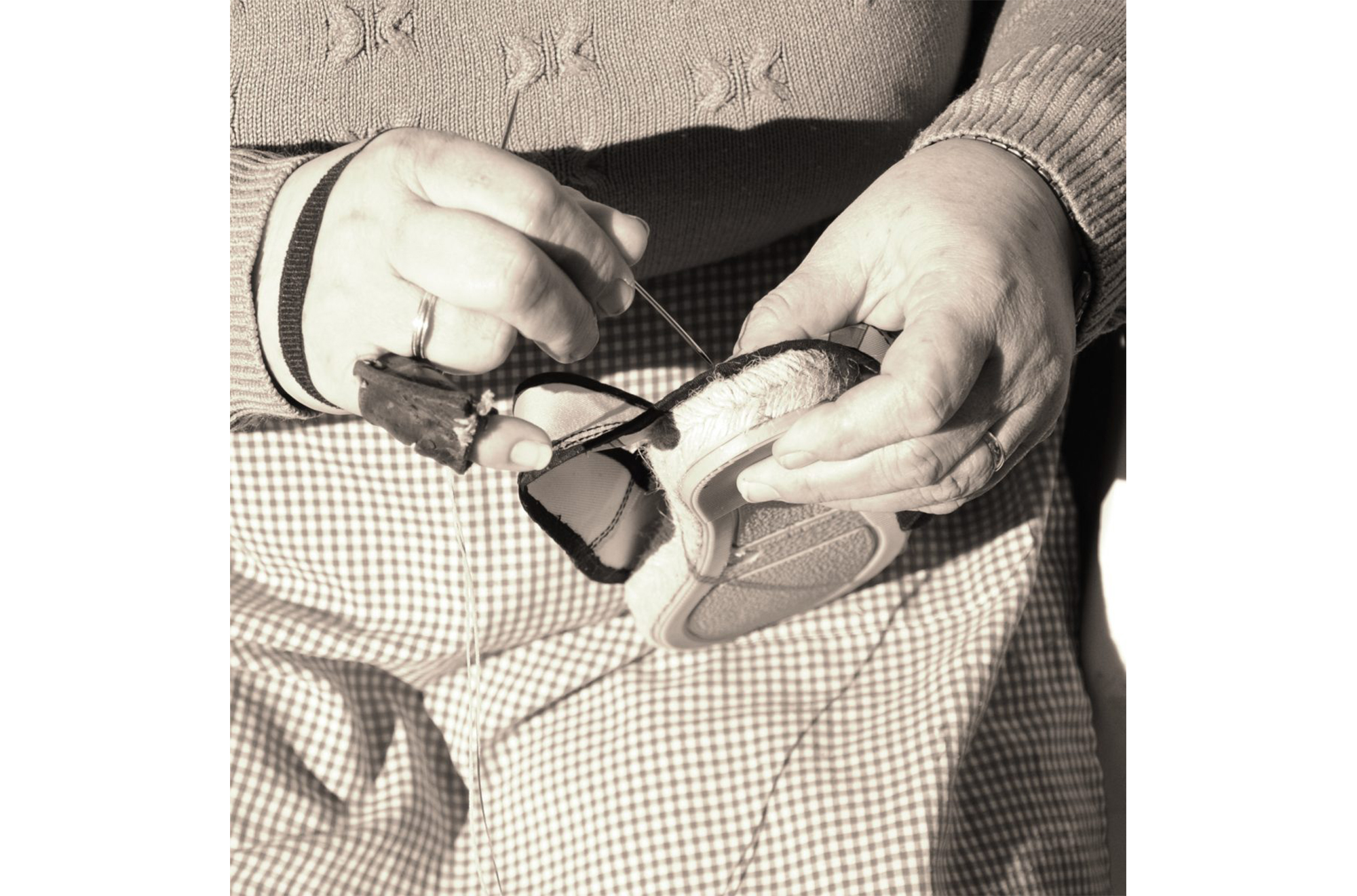 That's when he began doing research into production in Spain. "Really true, good espadrilles are basically all handmade. They've never changed the system," he explained, outlining how every step—from carving blocks of organic rubber to the hand-stitching of the shoes—is done by family-owned operations. "The people that started making espadrilles two or three hundred years ago, it's still the same people. It's just their [descendants] now that are running the business."
Tonello hopes that the quality consumers will be most drawn to (other than the sustainable aspect, being that the brand recycles) is that by nature of the available materials, each set of espadrilles is unique. At best, a single 90cm scarf can only yield about three pairs of shoes, depending on what size is being made. Pairs may not be cut the same way—assuming the Respoke team is even able to
find
multiples of the same design. "If you're lucky enough to buy a pair, you may end up being one of only two people, or three people that has a particular design," Tonello mused. "It's really special."
Respoke shoes, which are priced at $495, are available online here, and will soon be carried by Bergdorf Goodman.
http://fashionunfiltered.com/style/2017/respoke-espadrilles-michael-tonell
o


Posted by

M.T.
at 11:05 PM
No comments:


Blog Archive

Links we Like:
REVIEWS

ONE STOP MEDIA / PRESS SHOP:
CBS / THE EARLY SHOW

http://www.cbsnews.com/video/watch/?id=4044433n

-------------------------------------------

NEW ENGLAND CABLE NEWS
http://www.necn.com/Boston/Arts-Entertainment/Hes-got-the-book-on-Birkin-bags/1209994267.html

-----------------------------------------

BOSTON GLOBE

http://www.boston.com/lifestyle/fashion/articles/2008/04/17/bag_man/
-----------------------------------------


PUBLISHERS WEEKLY


http://www.publishersweekly.com/article/CA6547849.html?q=%22michael+tonello%22
-----------------------------------------


USA TODAY

http://www.usatoday.com/life/lifestyle/fashion/2008-04-21-birkin-side_N.htm

--------------------------------------








OFFICIAL WEBSITE